Daycare Services

The Pakistan Centre in partnership with the City of Nottingham Adult Services, Housing & Health provides Day Care provision and a Luncheon Club for Muslim Elders. These provisions aim to promote independence, self worth and quality of life among the elder members of our community. The Day Centre is open three days a week on Tuesday, Wednesday and Thursday, from 9.30am to 3.00pm. This provision can be accessed through normal Nottingham City Council referral system or by contacting the Care Services Manager at the Pakistan Centre.
The activities of the Day Centre include relaxation, music, films, discussions groups, day trips and prayer facilities. Refreshments are available through the day. Lunch is served at 12.30pm, the Halal meals are prepared at the Centre and there is a nominal charge for them.
Transport is provided for frail and Disabled persons and trained staff are available to provide assistance and support.
Staffing
Aurangzeb Khan is the Care Services Manager. He is keen to develop the existing service provision and is leading our initiatives to introduce intermediate day care for Muslim Women in various areas in Nottingham. Aurangzeb has previously worked for the Nottingham City and County Councils.
Aurangzeb Khan - Care Service Manager
Ajaib Hussain - Senior Care Assistant
Munawar Hussain - Care Assistant
Ali Raza - Care Assistant
Mohammed Usman Khan - Bus Escort/Care Assistant
Arif Mehmood - Cook
Abdul Farooq - Assistant Cook
Mahfooz Ahmad - Kitchen Assistant
Community Restaurant
The Centre also runs a Community restaurant, which is open to the general public from Monday to Friday from 12pm till 1.00pm. Hot freshly prepared meals are available to the public at a reasonable price, on average 40 people a day use this service, any surplus income from this facility is used to subsidise the elderly day care service.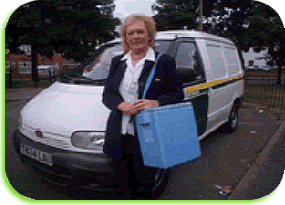 Meals at Home Delivery Service
Pakistan Centre in partnership with Nottingham City Council provides a meals at home service. Freshly cooked Halal meals are delivered by trained staff to service users homes at lunchtimes from Monday to Friday. This service is provided for elderly, disabled people who may be unable to cook for themselves. The Meals are cooked in our community Restaurant and packed in foil containers for collection by the meals at home drivers. There is a good variety of Halal and vegetarian food available and it can be frozen for reheating later. This service can be accessed by contacting the Meals at Home Service (Nottingham City Council) or The Care Services Manager at the Pakistan Centre.
Muslim Women's Intermediate Daycare
Pakistan Centre has been successful in securing funding to run Intermediate Daycare services for Muslim Women. These services are targeted at Elderly and Disabled Muslim Women and take place in Forest Fields/Radford (Forest Fields Community Centre - every Friday 10am till 2pm), Sneinton/Bakersfield (BANCA - every Wednesday 10am till 2pm) and in Lenton (Muslim Women's Organisation - every Friday 11am till 3pm). There are places for 20 ladies at each venue. If you or someone you know would be interested in attending please get in touch with the Care Services Manager at the Pakistan Centre.
The following activities will be provided at each of the luncheon clubs:
Friday Prayers (Jumma)
Education/Training
Health awareness - Healthy eating, Awareness of common illnesses and prevention
Social events - Celebration of cultural and religious festivals
Day trips and outings
Aerobics Classes